IngridH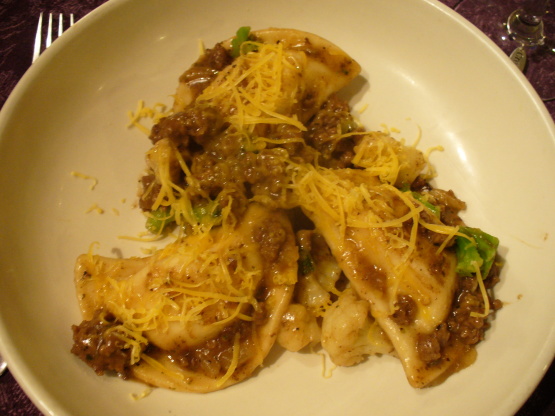 We love pierogis and this looks like a different and delicious way to serve them. It makes a complete meal-in-one. You could also substitute onion and potato pierogies in this dish. Recipe is from Simple and Delicious.

Very good quick meal! I had never had pierogies before so I was excited to try them. They were so good! Thanks for introducing them to me! I made the recipe exactly as directed except I accidently dumped my pierogies without defrosting them first. So, after adding them, I poured everything into a baking dish and baked it at 350 for about 15 minutes. It worked great. Thanks for posting! Made for Photo Tag.
In large skillet, cook beef and onion over medium heat until meat is no longer pink; drain, reserving 3 T drippings.
Sprinkle flour over beef and drippings; stir until blended.
Gradually add beef broth.
Bring to a boil; cook and stir for 2 minutes or until thickened.
Stir in the pierogies, vegetables and seasonings.
Cook, uncovered, for 4-5 minutes or until heated through.
Sprinkle with cheese.