Pierogi and Vareniki Dough
PanNan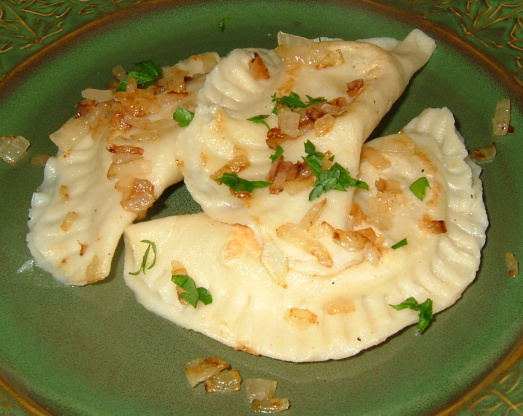 The best pierogi dough ever! The dough is very easy to work with and does not break when boiling. The addition of the cake flour makes all the difference, they come out soft and wonderful. Dough may be made 2 hours ahead, wrapped well in plastic wrap and chilled. Bring to room temperature before using. Makes enough for about 48 pierogies or 32 varenikis. Cooking time is fridge time.
This is one of the best recipes I've found for pierogi dough and I've made pierogies for years! I think the cake flour makes it so much better than just flour alone. I make a standard filling of mashed potatoes, shredded cheese (usually cheddar) and onions fried in butter. I've made these for work numerous times and they are always a huge hit!
Stir together flours in a bowl. Make a well in flour and add eggs, salt, and water, then stir together with a fork without touching flour. Continue stirring, gradually incorporating flour into well until a soft dough forms.
Transfer dough to a lightly floured work surface and knead, adding only as much additional flour as needed to keep dough from sticking, until smooth and elastic, about 8 minutes. (Dough will be soft.)
Cover with plastic wrap and let rest at room temperature at least 30 minutes.