Boomette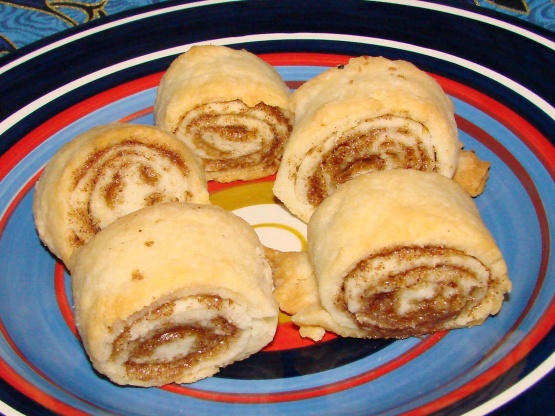 There always seems to be at least a little bit of leftover crust when you make a pie. This recipe puts those leftover scraps to use! These are great for the family to snack on before the pie is served. My mom used to always make these when I was growing up and I have continued to do it as well. I use a gluten free pie crust recipe and they still come out great! Sometimes I'll spread strawberry jam in with the butter and omit the cinnamon.

My family calls these "Doobies" I have no idea why. My mom and grandmother use the leftover scraps from pie crusts to make these. They are delicious! We use brown sugar and sometimes add raisins.
Sprinkle pastry cloth liberally with corn starch or sweet rice flour. Roll out the pie crust very very thin (about 6x12 at 1/8" thick) in a rectangle.
Brush the soft butter on carefully with a knife (or your fingers) so that it covers the whole rectangle in a thin layer (use more or less butter as needed). Sprinkle the sugar and cinnamon evenly over the butter.
Roll up from the shorter end. Leave the seam side down and fold the ends under (I usually cut them off and eat them). Then cut into 1 inch pieces and put in an oven safe dish along with your pie (350 degrees works well) and bake for about 20-30 minutes.
For a very flakey pastry-like crust, roll out dough very thin, then fold it in half multiple times until it is a small square. Then pick up and shape back into a ball and re-roll it out again. Repeat 2-3 times re-sprinkling pastry cloth and rolling pin with corn starch or sweet rice flour in between. For easier handling, split into 3-4 separate balls before rolling out the last time.