Pie a La Italiana (aka: Hot Dog Pie)
Zaney1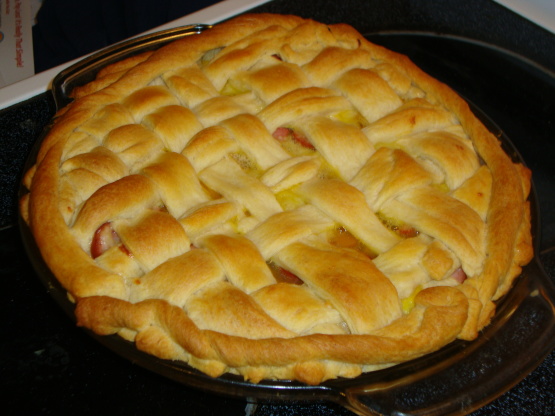 My mother made this for me when I was a kid and it's just great. She's had this recipe forever and still makes it today. If you like hot dogs, then you're gonna love this! : ) We serve it with hot corn or string beans on the side. You may also use seasoned ground beef instead of hot dogs, if you wish.

This was very good I used a frozen pie crust and it worked great. thanks
Preheat oven to 350 degrees.
Unroll one of the crescent dough tubes and separate triangles.
In a 9-inch pie plate, press pieces together to form a crust.
In a mixing bowl, combine sliced hot dogs, 2 eggs, mozzarella cheese, parmesan cheese and black pepper, if desired.
Pour into crust.
Unroll the second crescent dough tube and cut into long strips.
Crisscross strips to form a lattice top; flute edges.
Bake uncovered, 30-45 minutes, or until knife inserted near center comes out clean.
Cool 10 minutes.