Bayhill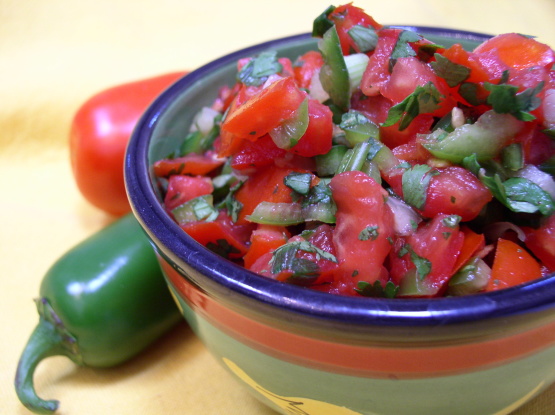 Fresh salsa. this can be used on so many things. I use it on tacos, as a dip, on taco potatoes, etc.
Delicious! I have to admit that I was intrigued by this recipe because I've never seen chicken bouillon used in pico de gallo. Also, I liked that it used several kinds of chile peppers (not just jalapeno). We loved it!! I used roma tomatoes and chile peppers from my garden. I didn't grow cubanelles, so I used a banana pepper instead. Also, I don't care for dried cilantro, so I used approx. 4 TBSP. of chopped, fresh cilantro. I seved this on chicken fajitas and my family gave it 2-thumbs up. Thank you for sharing this wonderful, easy recipe...it is definitely a keeper!! *Made for New Kids on the Block Tag*
Dissolve chicken bullion in heated lime juice.
Add all ingredients together and toss. The longer it sets, the better the flavors blend. The bullion, lime juice and cilantro measurements are estimated. Adjust to your own tastes.
Optional: Depending on how hot you like it, you may add 1/2 to 1 extremely finely chopped habanero or bonnet pepper. **Use caution when working with the peppers or you will regret it later. Try to use gloves.