PaulaG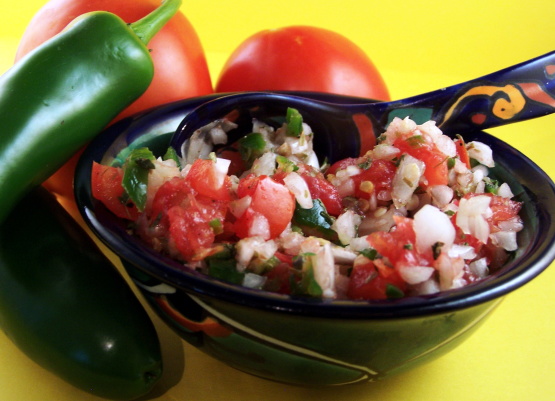 Pico de Gallo translates to "rooster's beak" in English (when you dip tortilla chips into it, your thumb and forefinger loosely resemble a pecking chicken). Didn't you always wonder where the name came from?

I have been looking for a good salsa type recipe for my spanish husband... and then it occurred to me that he might not like salsa but be looking for more of a pico type dish. Needless to say, we tried this one and it was fantastic. I halved the recipe just in case he didn't like it, and I put a little less onion in it and it was still fantastic. The next time I make it, I will make it as is in the recipe and probably double it. I had no idea he would eat the whole bowl! It was great! Thanks!
Stir together all ingredients; serve with tortilla chips, on scrambled eggs, as a fat-free salad dressing, etc.