Bev I Am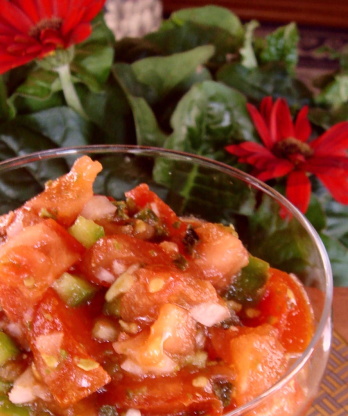 This is a superb salsa fresca, best when made with fresh fully-ripe tomatoes. It is usually served with fajitas, but it works well with other dishes. Literally translated as "beak of the rooster". From the Jamison's book Texas Home Cooking.

YUM! I love pico and this is a good recipe. I've had pico with bell peppers in restaurants before, and it works REALLY well in this recipe! I used kosher salt and also added a bit of freshly ground black pepper. Thanks for the recipe!
Combine all the ingredients in a medium bowl, and mix well.
Refrigerate the salsa for a least 30 minutes for the flavors to develop.
Serve it chilled, with fajitas, chops, or other dishes.