teresas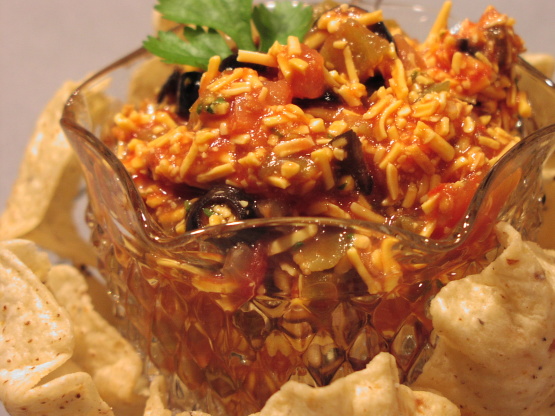 This recipe is great when you crave the taste of nachos, but don't have access to a heat source. Great for picnics, camping, and tailgating. Quick and easy to put together.

This is awesome! I took it to a backyard bbq and it was gone in no time. In fact DH said please make it again, so there's another batch blending in the refrigerator. I served it with the scoop tortilla chips and used medium salsa. I normally would use the hot except not knowing how others would care for the heat I took it down a notch. In fact I liked the flavor so much I'm sticking with the medium from now on. This is so easy and quick to prepare that's it going to be on my "bring" again list for future parties. Not sure if I was suppose to or not but I did drain the olives. Thanks for posting. :) I'm surprised this hasn't received more reviews.
In a medium bowl, combine all ingredients except tortilla chips.
Cover and refrigerate for several hours for flavors to blend.
Serve with tortilla chips for dipping.