alligirl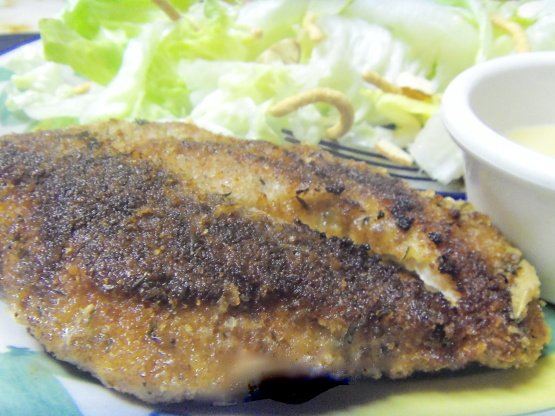 A boneless chicken recipe that I really enjoy. Quick to make. Original recipe in the 1998 TOH Cookbook. I adjusted a bit to our tastes.

Not sure how I've missed this so many times, but it's just as well. That means you can still surprise me, HokiesMom! This was super easy and I loved how quickly it came together. I did leave mine a few minutes too long, but they weren't overdone, just really brown! The taste was great, as well...Thanks HokiesMom, for sharing a winner of a chicken recipe - this will go into my 'tried and true' book!
Pound chicken to 1/4 inch thickness.
In a shallow bow, combine bread crumbs and seasonings.
Dip chicken in egg, then in crumb mixture.
In a skillet, brown the chicken in the oil and butter over medium heat for 10-15 minutes on each side or until juices run clear (180 degrees).