Pickliscious Chicken Salad
VickyJ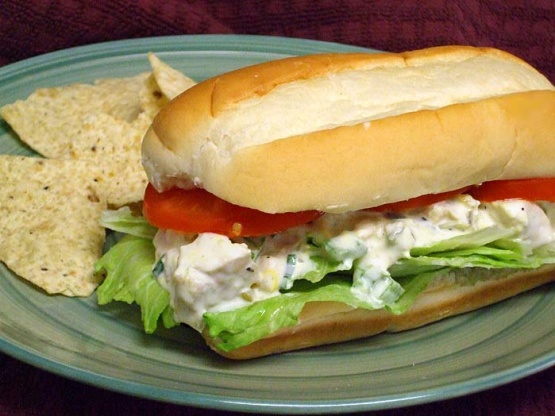 This recipe has you cook the chicken in the pickle juice so the chicken has good flavor! If you prefer less spicy, use the regular Bread & Butter Pickles. The name caught my attention while searching for a Hot Cherry Pepper canning recipe on www.ilovepickles.com . NOTE: This is delicious. I could not find Spicy Bread & Butter Pickles so I used the the no-sugar regular variety and added a few drops of hot sauce. I substituted chopped zucchini for the celery. If you prefer Miracle Whip over mayo, that would be fine.

I'm sorry Kat, but I did not care for this sandwich. The cubed chicken pieces in the bun made this sandwich a bit messy to eat. My husband thought either shredded or thinly sliced chicken pieces would of been best to use in this sandwich. I had used mayonnaise in the recipe, but I think salad dressing or perhaps using half mayo and half salad dressing, would of been better, but no matter what you use, the dressing was just too runny, so it made the sandwich very messy to eat. Also, I did use Vlasic Zesty Bread & Butter Chip Pickles, which made the sandwich a bit spicy, (which my husband and I liked that about the sandwich filling) but I did not add as much as the recipe specified, nor did I add as much celery and scallions, as I found it to be a bit too much, so I scaled it down a bit. I'm sorry Kat, that I wasn't able to give this recipe a better review, but I am glad to see others here had enjoyed the recipe.
Place uncooked chicken cubes in a single layer in a 10-inch saucepan.
Pour 1/2 cup pickle juice to cover halfway and cook over low heat until chicken is cooked through (until no pink remains).
Drain and cool.
Stir mayonnaise and 2 tablespoons pickle juice together in a large bowl; add chicken, celery, scallions and pickles.
Mix well.
Serve as appetizer on crackers, as a sandwich filling or spoon over salad greens.