jonesies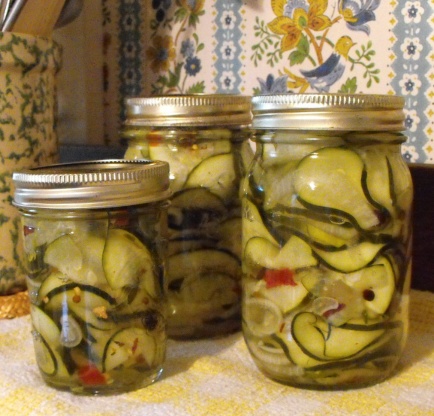 This in an Emeril Lagasse recipe. I love Emeril! This Pickled squash recipe is a hit with everyone I've given it to.
In a large pot or bowl, layer sliced squash and onions, and sprinkle eash layer generously with kosher salt.
Let sit 1 hour.
Drain.
In large pot combine vinegar, sugar, pickling spice, and crushed red pepper and bring to a boil.
Add squash and onions and return to boil.
Ladle vegetables and enough of the liquid to cover them within 1/2 inch into sterilized jars.
Wipe rims and jars clean, and put lids and rings on jars.
Process jars in hot water bath for 10 minutes.
Remove jars from water bath and allow to cool.
Any jars that do not seal should be refrigerated and used withing 2 weeks.