Peter J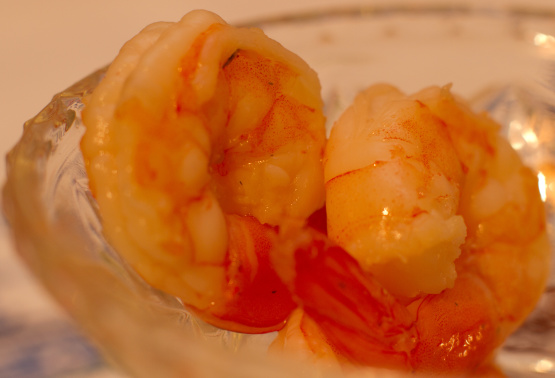 These tangy and sweet little shrimp need to pickle for a few days. Served with a cold beer, they make a great snack while you heat up the grill. From the Deen Brother's Y'all Come Eat cookbook.

What a wonderful little treat! I can't really add much to your introduction of tangy yet sweet, and perfect with a beer. Only change I made was I didn't have smaller jars so used a larger size as per the photo but otherwise didn't change a thing and they're great.
For the cooking liquid, in a large pot combine all the cooking liquid ingredients; bring to a boil. Reduce the heat and simmer for 15 minutes. Strain, discarding the solids. Let the liquid cool in the pot.
For the shrimp, add the shrimp to the cooled cooking liquid. Heat over medium-high heat for 8 minutes (it is OK if it does not come to a simmer or a boil). Turn off the heat, cover, and let the shrimp sit in the cooking liquid for 2 to 3 minutes more or until opaque. Drain, reserving the liquid.
In a large bowl, whisk together the cider vinegar, lemon juice, sugar, salt, and dill seeds. Add the shrimp and let stand for 15 minutes.
In each of six 8-ounce jars, layer the shrimp and onion slices; add 2 peppercorns, 1 bay leaf, 1 garlic clove, and 1 whole clove to each jar. Divide the vinegar mixture among the jars. Top off each jar with the reserved cooking liquid. Screw the lids on tightly and store in the refrigerator for up to 3 days. Discard bay leaves.