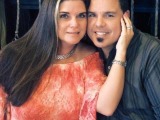 These onions are wonderful piled on a burger, roll-up, or sandwich; tossed in a salad; or festooned over a plate of sliced tomatoes, drizzled with olive oil, and then finished off with a generous amount of freshly ground black pepper. They also make a colorful topping for just about any hors d'oeuvre. **These onions must stay refrigerated; even if you sealed the glass jar. They cannot be kept in the pantry!**
Directions
Blanch 2 sliced red onions in a small saucepan of boiling water to cover for 1 minute and drain in a colander.
Then return them to the pan and add a cup of cider vinegar, a teaspoon of salt, and just enough cold water to barely cover the onions.
Bring to a boil over high heat and simmer the onions 1 minute.
Transfer the onions and brine to a glass jar and chill.
The onions will turn the color of a pink piñata and will get crisp as they cool.
They'll keep for weeks in the refrigerator.
Reviews
Most Helpful
This was really good. :yummy: Mine doesn't look as pretty though. I expect because my slices weren't uniform, but I doubt it made any difference to the taste. Oh...I also threw in some peppercorms...just a few. These went really well with the Bubba's Quarter Pound Burgers we had tonight. Thanks for a great recipe. *UPDATE* Aug 23/08 Made again today. Actually, I probably make this every second month or so. This is always in my fridge. Such a terrific recipe. Everyone should give it a try. I was a little disappointed that it can't be 'canned', but it's so easy and quick to make it really isn't a bother at all. This time I added 1/2 tsp red pepper flakes and 15 grinds from the pepper mill! Thanks again Juenessa

These are wonderful and so easy to make! I did toss in a few crushed red pepper flakes to satisfy our craving for heat. Right after they cooled, I made a sandwich of your Southwestern Pulled Brisket Sandwiches and topped it with these onions. SUPER! These will find a permanent home in my fridge. Thanks for sharing your recipe!
This recipe is so easy and they taste great, the jar didn't last a week at my house.