Pickled Quail Eggs - Red Wine Vinegar
Peter J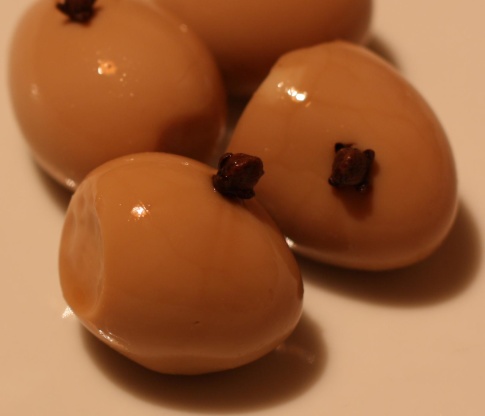 One of the advantages of quail eggs is they pickle so much faster than chicken eggs. You can buy pre-hard cooked quail eggs in cans at Asian grocery markets. Liquid volumes are approximate. Preparation time does not include marinating time.

These were wonderful! First time I've pickled quail eggs and the smaller size does let them both pickle faster and allow the flavor to penetrate further. The extra richness of quail egg yolks adds another dimension as well. Only change I made was to steam fresh quail eggs for 15 mins rather than use canned which I haven't seen around here before.
Drain the can, and insert a clove into each egg; I am assuming there are approximately 25 eggs in each can. (There may be more.).
In a container, place the eggs, add the other seasonings (including the slice of jalapeno if you wish), and cover with red wine vinegar. Alternatively, make a vinegar to water ratio of 3 or 4 parts to 1 part, if otherwise the taste will be too vinegary for you.
Cover and set in refrigerator for 4 days, or longer. Swirl occasionally.
Drain and serve. Eggs will be pinkish-brown. The swirling will ensure uniform coloration. Depending on your crowd, remove the cloves before serving.