Pickled Peppers With Shallots and Thyme
Peter J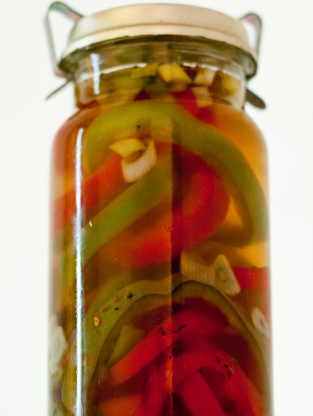 From Bon Appetite, September, 2009. I have been sorting through my magazines to make some space for MORE , and found a few recipes to keep for later. The photo with this is gorgeous with red, orange, and yellow peppers. Can be used as pizza topping, or served with bread and cheese. Prep time does not include chill time.
Slice peppers crosswise into 1/4 inch rounds, seeded.
Separate shallot slices into thin rings.
Place peppers and shallots in medium bowl.
Mix vinegar and next 6 ingredients in medium saucepan.
Bring to boil over medium heat, stirring to dissolve sugar and salt.
Remove brine from heat; carefully pour over peppers and shallots.
Cover bowl; let sit 5 minutes.
Uncover; let cool to room temperature.
Transfer to quart-size jar, pressing peppers into brine.
Cover; chill at least 4 hours and up to 10 days.