JustJanS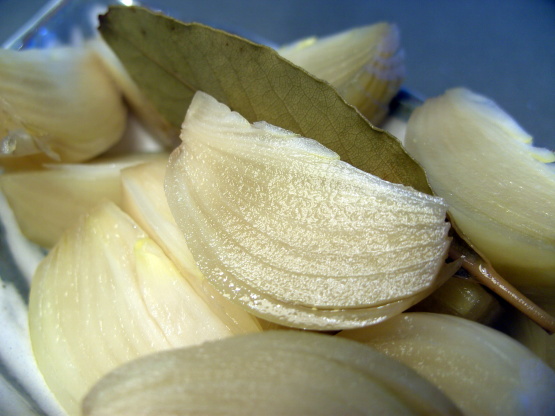 I bought a large jar of pickled onions for quite a lot of money so decided I better have a go at making my own. This is a combination of two recipes and I have to say the result it way better than I ever expected, and way way better than the expensive ones for about a fifth of the price.
Combine salt and 4 cups of water in a large glass bowl. Stir until salt dissolves. Peel skin from onions, leaving onions whole. Add to salted water. Cover. Stand at room temperature for 2 days.
Drain onions. Rinse well under cold water and dry. Pack into 4 x 3-cup capacity sterilised jars, layering with chillies, bay leaves and peppercorns.
Place vinegar, sugar allspice, extra peppercorns and cloves into a saucepan over low heat. Cook, stirring, for 15 minutes or until sugar has dissolved. Bring to the boil. Simmer, uncovered, for 15 minutes or until syrup thickens slightly. Set aside to cool completely. Strain liquid. Pour over onions, making sure onions are completely covered. Seal jars. Allow to stand for 6 weeks before using.