gailanng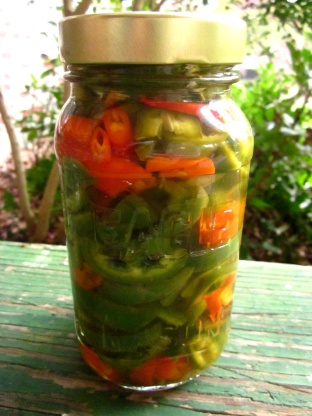 This is a brine I came up with from various pickle recipes. Our family loves my salsa, which uses the pickled jalapenos in the recipe. Since we grow jalapenos, I decided to try making my own. We also like to eat these on nachos, tacos, and enchiladas!

Amazing! My son will love them , if I remember to give them to him..haha They are better then ANY pickled jalapenos you can buy. The bumper crop didn't stand a chance with this GREAT pickling brine.
Make sure you wear rubber gloves!
I learned the hard way the first time I made these-- my hands burned for a day or two!
Remove the stem end from the jalapenos and remove seeds from inside.
Slice jalapenos and place in clean pint jars.
Boil brine ingredients and pour over jalapenos to within 1/2 inch of rim.
Wipe rims; add lids and rings.
Process for 10 minutes in a hot water bath.
If you have any jars that do not seal, you may re-process these using new lids.