Pickled Green Beans " Dilly Beans"
flower7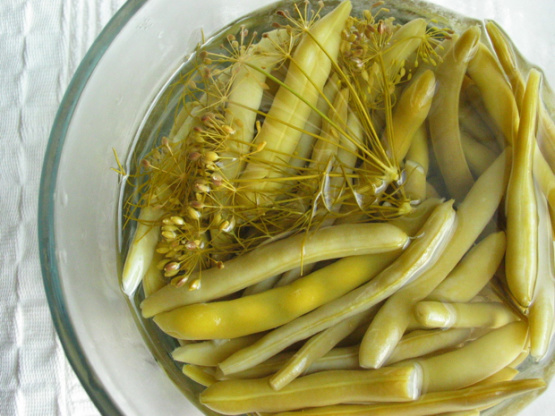 Love these as a condiment - in a bloody mary - I even used the brine to pickle some garlic which got rave reviews! This was my first year for canning and was scared to death but was simple and easy and every jar sealed perfect! This recipe is from another site want to put it on here my favorite site! so I can keep them all together! Thanks to Kimber the author of this recipe for posting

I had about 7 oz homegrown green beans and wanted to try some pickled green beans. Instead of canning these, I just did them as refrigerator pickles. I cut the recipe to a quarter (2 jars) but added a little extra garlic and dill and boiled the beans for 5 minutes instead of steaming. Two days after making they are very good and I'm sure will only get better in the coming days! Thanks for sharing!
1. Cut green beans to fit inside pint canning jars.
2. Place green beans in a steamer over 1 inch of boiling water, and cover. Cook until tender but still firm, for 3 minutes. Plunge beans into ice water. Drain well.
3. Pack the beans into four hot, sterilized pint jars. Place 1 clove garlic and 2 sprigs dill weed in each jar, against the glass. Add 1 teaspoon of salt to each jar.
4. In a large saucepan over high heat, bring vinegar and water to a boil. Pour over beans.
5. Fit the jars with lids and rings and process for 10 minutes in a boiling water bath.