3 Reviews
I had to do it. Green Beans at 99 cents a pound is rare! I thought this recipe was really easy and liked the ratio of the vinegar/water/salt. The tast is delicious. I only boiled my GB's for 5 minutes though. I though 15 minutes would be too long and make them too soft. I also put a good amount of ice cubes on the beans after boiling to cool them down so they would not keep cooking. I guess it's up to the chef. I tried some the day after and thought they were a nice texture with the 5 minutes. I got a batch of 7 -12 oz jars.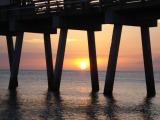 I did a lot of canning this year, and we opened our first jar of these last night to have along with hot dogs and beans and some of my homemade relish Uncle Don's Relish. They were a great side kick to the hot dogs and rolls and we just love them! Thanks!
These are the BEST pickled beans I've ever tried! I wouldn't change a thing! I followed the directions exactly....it was very easy and they turned out PERFECT! I was so pleased with them that I gave out jars as gifts to friends and neighbors and have had tons of compliments!
Pickled Green Beans (Dilly Beans)