Pickled Green Beans (Dilly Beans)
Lynn I.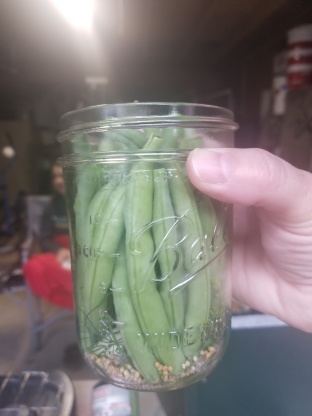 This recipe was originally my Great Grandmother's I just recently found it in my Mother's stuff after she passed away a few months ago.

These are great! Dilly Beans are easy, fun, and a perfect beginning canning project. Here is a note for beginners: despite what some reviewers may post, it is NOT advisable to alter the proportions of vinegar/water/salt/sugar in a canning recipe. Canning is about chemistry; the right chemistry preserves your food...the wrong chemistry can fail to preserve the food, and people who consume it can become quite ill or worse. This is why measurements need to be exact, and recipes should come from a reliable source. Please read about proper canning practices in a publication like the Ball Blue Book.
Clean and Cut beans to fit in tall Mason Jars. (one pint).
Place ingredients 2-5 into each jar.
Add beans to jar(s) until full.
Bring to boil ingredients 6-8.
Pour boiling liquid over beans.
Tighten lids.
Process in boiling water for 5 minutes. *Correction: Processing time should be 10-15 min, not 5.*.
I use what ever amount of beans I have on hand and make the liquid accordingly.