COOKGIRl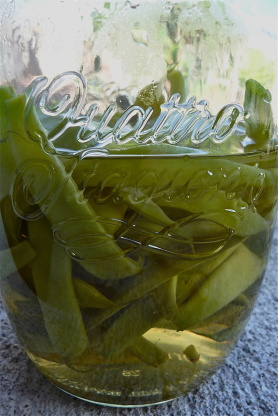 An easy, delicious green bean pickle. From the Mississippi Valley Chapter of the United States Regional Cookbook, Culinary Arts Institute of Chicago, 1947. While this recipe is written in an old-fashioned way, it is perfectly safe if processed using modern methods. If you are unfamiliar with these techniques, please go to http://www.uga.edu/nchfp/how/can_home.html for the current information.

This is what I was looking for thank you very much
Cook green beans to crisp-tender; drain.
Boil vinegar, water, sugar and salt together for two minutes and pour over hot beans.
Let stand for several hours before using or place in sterilized jars and seal.