TigerJo~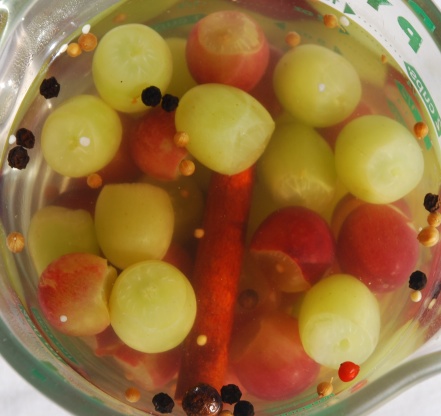 We had pickled grapes as part of an appetizer that was served at Teatro ZinZanni. These ones don't taste exactly the same as the ones chef Tom Douglas served there, but they're a tasty addition to a cheese or charcuterie plate. They taste similar to a sweet pickle, only better. I like to mix red and green seedless grapes, but you can use one or the other. I also use Splenda, but feel free to use granulated sugar if you desire. This recipe is adapted from one I found on NPR, which in turn was adapted from a recipe from Seattle's Boat Street Cafe. They are ready to eat after about 8hrs in the brine.
Rinse & dry grapes, and carefully remove all stems. Using a sharp paring knife, trim away the stem end of the grape (or 'belly button'). Put the grapes into a medium bowl, and set aside (I like to use a 1qt glass Pyrex measuring cup).
In a medium saucepan, combine remaining ingredients, except for the Splenda (but if you're using sugar, add it now). Bring mixture to a boil over medium heat. If using Splenda, remove from heat and add it now, stirring until dissolved. Pour mixture over the grapes; stir to combine. Cover, and set aside to cool at room temperature.
Cover the bowl with plastic wrap (or pour grapes & brine into jars with tight fitting lids); chill at least 8hrs or overnight. Serve cold.