Rita1652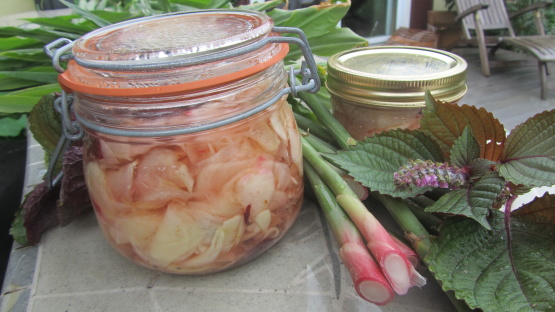 recipe by Chefs Anne and David Gingrass, tweaked by me. I know it's so easy to go and buy pickled ginger. But when I have a client that gives me so much fresh I just had to find a recipe! You can use all rice wine vinegar. Modern scientific research has revealed that ginger possesses numerous therapeutic properties including antioxidant effects, an ability to inhibit the formation of inflammatory compounds, and direct anti-inflammatory effects.
Peel ginger and slice very thin on a slicer with the grain.
Bring a pot of water to a boil then pour over the ginger and allow to stand for 10 minutes off of the heat.
Drain the water.
Combine all other ingredients and bring to a boil.
Remove from the fire and add the ginger.
Allow to sit at room temperature until cool and then refrigerate.
Keeps for more than a month if covered tightly.
The juice is very good to use for vinaigrette's and marinades.