Pickled Garlic Scapes or Garlic Whistles
flower7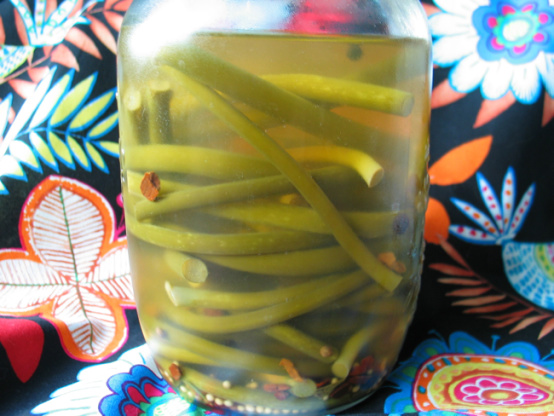 This year was my first time experiencing garlic scapes. I grilled some, added some to a salad, and made this lovely recipe. These are great with barbecue or any other way you might enjoy a garlic-y pickle. Cook time does not include cooling time.
Wash garlic scapes and remove blossoms and any woody ends. Cut each scape into 2-3 sections.
Bring 3-4 quarts of water to a boil. Blanch scapes for 2 1/2-3 minutes in boiling water. Drain & dump into ice water to stop cooking. Drain again & add to a clean quart jar.
Add water, vinegars, salt, sugar & pickling spice to small saucepan. Bring to a boil.
Add peppercorns & mustard seed to jar with scapes.
When brine has come to a boil remove from heat and pour over scapes in the jar.
Add lid and allow to come to room temperature. Refrigerate for 3 days before eating. Will last about a month refrigerated. Could also be sealed in a water bath for longer term storage (but I've not tried this). [Update: I've had some of these in the fridge for almost exactly a year and they are noticeably softer but otherwise are just fine.].