Axe1678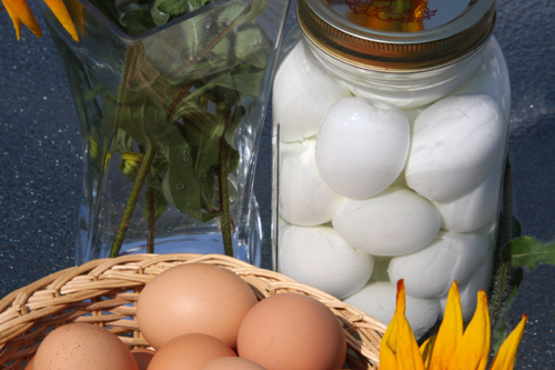 I got this recipe from a friend who owns a bar. Its definitely a guy thing!!

This is the first time I have had good pickled eggs since I was a child. These are excellent! I don't like store-bought pickling spice, so I made my own. (I mixed some turmeric and celery seed with the mustard seed.) Thanks for a great recipe1
Place eggs in a large pot& cover by 2 inches with cold water.
Bring water to a full, rolling boil& immediately remove from the heat.
Cover& let stand for 15 minutes.
Remove from pan, run under cold water& peel.
In a medium pot, mix together the vinegar, water,& salt.
Combine pickling spice, garlic& bay leaf in cheesecloth, tie and add to pot.
Bring to a boil over medium heat, lower temperature, cover& simmer for 5 minutes.
Remove spice bag.
Transfer the eggs to sterile containers, fill with hot vinegar mixture& seal.
Allow to cool& then refrigerate for at least 8 days before serving.