Pickled Cucumbers (From Scott's Nana)
Prep 10 mins
Cook 10 mins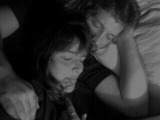 Scott is Bird's nephew and this recipe is adapted from Scott's Nana who made them often. I peel the cucumbers leaving some skin on (creating stripes) for a beautiful presentation. Makes about 1 quart.
Directions
PICKLES: To a clean jar add half of the garlic and dill. Follow with the sliced cucumbers, then the remaining garlic and dill.
BRINE: Using a non-reactive pot, bring to brine ingredients to a boil. Carefully pour hot liquid into the jar to fill. Cover and refrigerate overnight.
Most Helpful
I think these are delicious and easy. A nice way to use up some extra cukes. I like garlic and these are just enough.
REALLY garlicy. Really too much so for my taste BUT I will see how they age. Often such aggressive flavors age nicely. I couldn't find Kirbys but found lovely little baby English cucumbers and used 7 of them. Tender as can be!