Tisme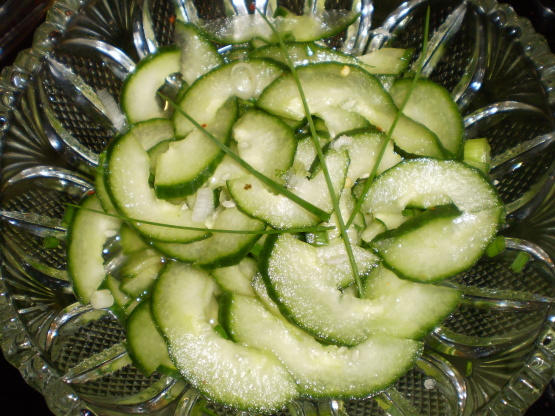 A recipe from the cookbook "Vietnamese Bible". States that should last around 10 days stored in the refrigerator

Top Review by Tisme
I used a large cucumber for this recipe, as that was all I had on hand. I only got to have it in the fridge for 30 minutes before using but it did not matter this still was a really nice salad.
The sweet & sour combination work's really well together with the cucumber, with just the right hint of heat from the chilli (which I did cut back on a little).
The family really loved this salad and we enjoyed it so much. Such an easy recipe that will be served quite a lot over summer in this household.
Thanks **Jubes**.
Cut unpeeled cucumbers lenghtways in half and scoop out the seeds (discard the seeds) . Slice the cucumbers thinly.
In a bowl, mix the rice vinegar, sugar , salt and water, stirring to dissolve the sugar.
Add all ingredients and mix.
Cover with clingwrap and set aside on the counter for around 40 minutes, turning occassionally.
Refrigerate and use as required.