Pickled Cauliflower With Red Onion
pammyowl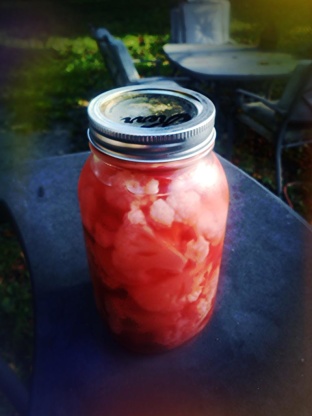 The red onion bleeds just enough to lend a pretty pink color. This would be good alone or as part of an antipasti plate. Pair with meats and cheeses.

This recipe needs a bit of tweaking, but it was quite tasty! I found the vinegar solution was not enough to fill the jar, but that may have been because I didn't pack the veg tightly enough, so then I added more vinegar, so of course then it was too sour, so I had to add more sugar. Nonetheless it was a fun experiment!
Bring a medium pot of water to a boil and blanch the cauliflower until tender-crisp, about 2 minutes; drain and rinse under cold water to cool off.
Pack the cauliflower, onion, and garlic into a quart jar.
To make the brine: In a small saucepan, combine the vinegars, water, sugar, 1 1/2 teaspoon salt, coriander, and lemon zest and bring to a boil.
Pour the hot brine over the cauliflower and let cool to room temperature.
Cover and refrigerate overnight or up to 1 week.