berry271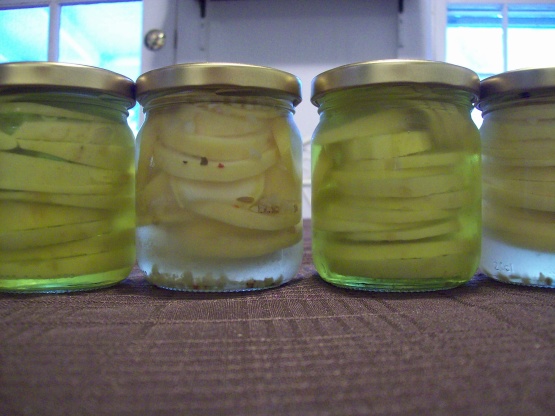 This recipe was in the Picayune Item, our little local newspaper. I haven't tried it, yet. But it really looks fun and so easy, I just had to post it! I imagine this would be great with green beans, too. And the addition of some garlic and pepper corns...try it!

I can't rate this yet, as I didn't pickle asparagus. I just wanted to let you know that this works with pretty much any veggie you want to use, my photos are of sliced zucchini. Also you can only reuse the pickle juice once, after that it is too diluted. You can also use leftover pickle juice to pickle eggs, but there are already recipes posted for that.
Snap off tough ends of asparagus.
Boil asparagus for two minutes.
Drain and rinse under cold water.
Cut spears to the height of the pickle jar.
Place in juice.
Cover with lid.
Refrigerate at least one day.