Debbwl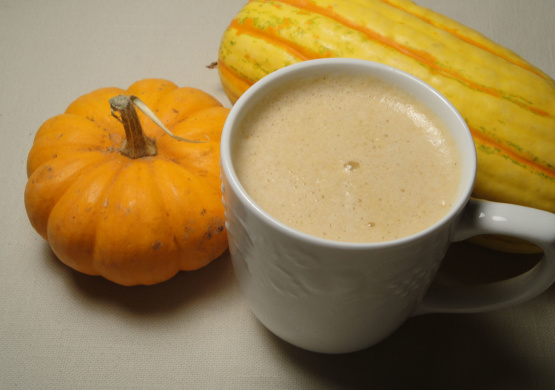 Yes, I know, I thought the very same thing when I first saw this in a magazine. However, I tried it and it's really very good! Who'd of guessed it, lol. The pumpkin melts right into the coffee and adds body and natural flavor. It's low in fat too so why not give it a try?

Top Review by Debbwl
Better than Starbucks!! Every fall Starbucks comes out with their Pumpkin Latte and every year we are disappointed by the diluted flavor and feel, but Annacia your Pumpkin Latte is over the moon yummy and does not have that diluted flavor or feel Bravo! I did make one minor change in that I used Splend brown sugar substitute instead of white and used the full 2 teaspoons along with the blender option. This is now a fall staple in our home, thank you so much.
Combine coffee, evaporated milk, pumpkin, Splenda and pumpkin pie spice in 2-cup microwave-safe glass measure or small saucepan.
Heat until very hot (if using stove, use medium-low heat and stir occasionally).
Carefully pour into mugs.
TIP:
To make a foamy top to your latte much like your favorite coffee house creation, prepare as above.
Carefully transfer hot mixture into blender container; cover with lid and then hold down lid with folded towel or potholder.
Blend for 1 minute.