teresas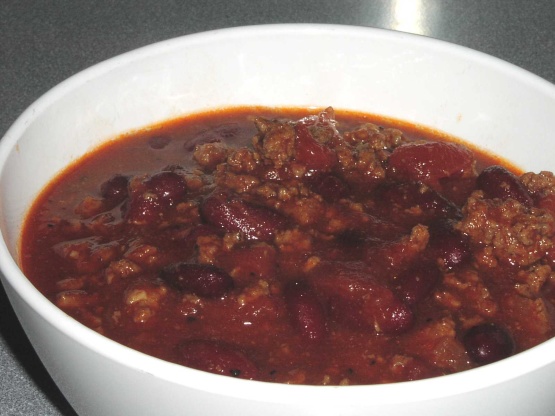 This is my husband's recipe, the only chili we eat. It's so good!! Easy enough for dh to make, and just spicy enough to warm us up! This freezes well.

This chili really surprised me. I didn't expect it to be as good as it was. There are many more chili recipes with a lot more ingredients that don't taste as good but sure take more time. I did simmer it about twice as long cuz it was on the soupy side and I like my chili on the thicker. Overall a great chili that I will make often. I did top it with some chopped cheddar cheese, sour cream and cilantro. Thanks Kaarin for posting.
Brown meat with onion and garlic in canola oil, leaving the meat in large pieces; drain fat.
Place all ingredients in a large saucepan; simmer uncovered 45 minutes, stirring occasionally.