sheepdoc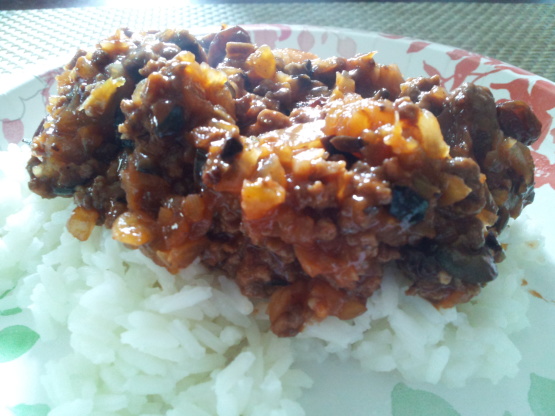 Picadillo is a Spanish or Mexican ground meat hash with vegetables. It usually has capers and green olives in it as well. This recipe may be served over rice or used as a filling for sweet peppers, tortillas, taco shells or pita breads, even spooned over toasted buns. Source of recipe: Anne Lindsay's New Light Cooking. When I made this I found the flavour of 2 tbsp of Worcestershire sauce to be too strong for my taste. I would try 1 tbsp and then taste it. I would also add the same quantity of vinegar so if you only added 1 tbsp Worcestershire sauce then only use 1 tbsp vinegar. Note: May substitute 14 oz can tomato sauce for tomato paste and water but salt content will be higher.
Using a large nonstick skillet, cook beef over medium heat, breaking up with spoon, until browned and drain off any fat.
Add onions and cook, stirring often, for 5 minutes or until nearly tender.
Add garlic and peppers, and cook, stirring often, for 2 to 3 minutes or until onions are softened.
Mix tomato paste with water and stir into beef mixture along with raisins, olives, capers and Worcestershire sauce (original recipe called for 2 tbsp Worcestershire sauce but I found that to be too much).
Simmer for 5 minutes to blend flavors then stir in vinegar (I would add the same amount of vinegar as Worcestershire sauce), salt and pepper.