Pia Mia's Peanut Butter Balls
David04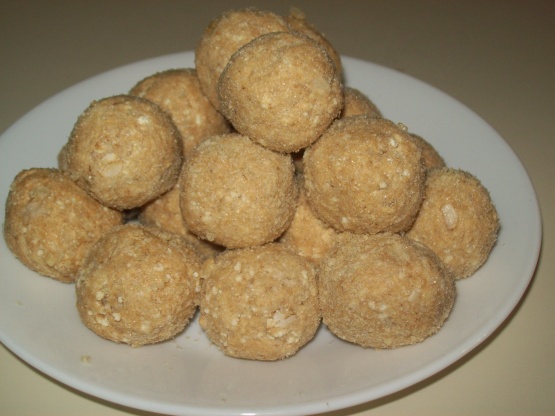 These are delicious snacks. But addicting.

Not only addicting, but super easy to make. The predominant flavors for me were the honey and oatmeal. I want to make these again using chunky peanut butter as I think that would add a little more peanut flavor for me. The cereal coating keeps these from being sticky and adds a little bit of crunch. Didn't need to store in the fridge as they were gone very quickly! Made for Fall 2013 My 3 Chefs.
Mix together the first four ingredients and 1/2 cup of the Rice Krispies.
Shape into 1-inch balls.
Place remaining cereal in zip-top plastic bag and crush to a powder with a rolling pin. Place shaped balls in plastic bag and shake and allow the cereal to coat each ball evenly.
Pia Mia's Pia Nut Butter Balls should be stored in air tight container in the refrigerator.