PetsRus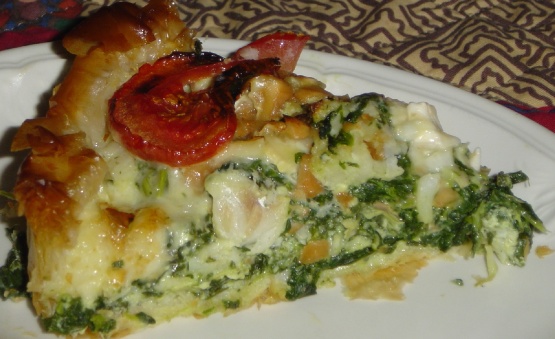 Phyllo and spinach make you think of warm and sunny Greece! The fish gives this combo another twist. Created for the RSC cook contest!

This was delicious! I made this last weekend using cod fillets as I could not get either catfish or tilapia. The instructions were clear and it was very easy to put this together. My husband and I were both very pleased with the results and would highly recommend this recipe to anyone! I used Mozzarella cheese and baby plum tomatoes. Thanks Pets for another winner!
12 -14

ounces catfish or 12 -14 ounces tilapia fillets

10

ounces frozen spinach, thawed and squeezed dry as much as possible

2

eggs, beaten
1⁄2 cup sour cream or 1⁄2 cup creme fraiche
1⁄2 cup fresh basil leaf, chopped
1⁄2 cup green onion, chopped

1

garlic clove, crushed
1⁄2 cup cashew nuts, chopped
salt and pepper, to taste
fresh grated nutmeg, to taste

5

sheets phyllo pastry
olive oil, for brushing

4

tablespoons panko breadcrumbs

4 -6

ounces mild brie cheese or 4 -6 ounces mozzarella cheese, chopped

2

tomatoes, sliced or 10 cherry tomatoes, halved
Preheat the oven to 350°F.
Cube the fish, sprinkle with lime juice and set aside.
Mix together the spinach, eggs, sour cream, basil, green onions, garlic and cashew nuts, also add the zest of the lime.
Add seasonings to taste.
Brush a 9 inch round baking tin with olive oil, a loose bottom or springform pan will make it easier to remove the pie after baking.
Brush a sheet of phyllo with olive oil, line the tin, sprinkle with some breadcrumbs, repeat with all the sheets overlapping each time and using the breadcrumbs, you will have lots of pastry hanging over the side of the tin.
Drain the fish, mix gently with the spinach mixture and pour in the pastry lined tin.
Top with the cheese and then the tomatoes.
Roll the overhanging pastry up and over the edge of the tin, ending up with a tight roll all the way around the pie but on the inside of the tin, then brush the pastry roll with olive oil.
Bake for 30-35 minutes, let stand for 5 minutes and remove from the tin.