Phyllo Rolls Filled With Spinach and Chicken
Rita1652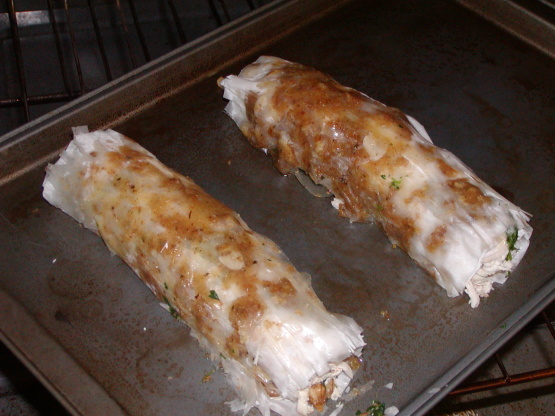 These spinach, chicken stuffed rolls is easier then it looks. Looks like you took hours to make this exquisite dinner. Place slice of the rolls on your favorite chicken gravy served with simple white rice. Or slice into appetizer size slices for fun pickens! This recipe make 2 rolls.

This was really really good! It was easy to make, and since I had to cook the chicken, took me closer to an hour from start to finish. Instead of Ranch dressing I used Golden Caeser. I also put the spinach and chicken in their own layer of phyllo. I served this with Minute Rice and McCormick chicken gravy and will definately be making this again!
Spread for in between layers of phyllo dough

8

tablespoons unsalted butter, melted

1

tablespoon sliced garlic
1⁄3 cup seasoned dry bread crumb
1⁄3 cup crushed cashews

6

sheets phyllo dough (each 14X18, 3 sheets pre roll)

Spinach Filling

10

ounces frozen spinach, defrosted and squeezed of all moisture

1

egg

2

tablespoons instant minced onion
1⁄8 teaspoon cayenne
1⁄4 teaspoon dried basil

6

ounces chicken breasts, poached or roasted shredded

1

tablespoon ranch dressing or 1 tablespoon blue cheese dressing
Preheat oven to 425 degrees.
Mix the melted butter, garlic, breadcrumbs, & cashews (ingredients for the spread between layers of phyllo dough.
) Split in half.
One pre roll.
Mix Spinach Filling ingredients together the Spinach, Egg, onions, cayenne, & Basil.
Split in half.
One pre roll.
Mix chichen and dressing.
Split in half.
Start with one phyllo sheet short side toward you.
Take 1/2 of the butter mixture and spread it on one sheet, repeat laying a sheet of phyllo and the rest of the other half of butter mixture.
Lay the third sheet over the butter mixture.
Place 1/2 of the chicken over the prepared phyllo follow with 1/2 the spinach mixture.
Roll up short end to short end and place on cookie sheet pan.
When rolling remember you are in control so roll firmly.
And tenderly spread the rolls with any butter that escapes onto your hand onto the outside of the rolls.
Repeat with the other half of ingredients to make the other roll.
Bake for 20 minutes.
Slice into quarters for a meal or eighths for an appetizer.