Philly Cheesesteak (The Way I Remember It)
Suzie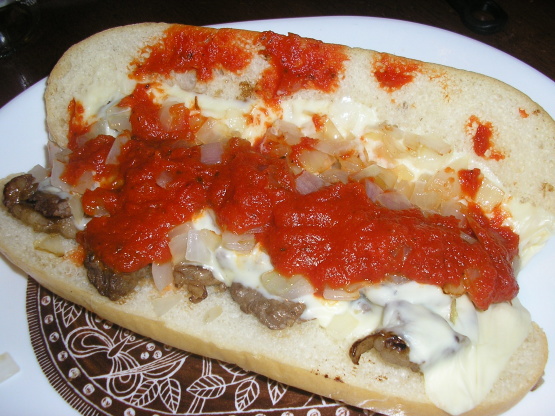 Lived in N. E. Philly until 1972. Moved to Wilkes-Barre area. There was one place that made cheesesteaks that was awesome. THAT'S the recipe I've submitted. Dicing the onion early in the day alters the strong taste of onion to give the sandwich that certain "taste". Green Peppers are NOT the norm only an option as are mushrooms.

I totally agree..this is not a cheesesteak! They are served with typically provalone or cheese whiz! And KETCHUP!!!! Are ya freekin kidding me?? My poor relatives would roll over in their graves. If ya are looking for a "traditional" recipe like I was then keep looking!
1

lb thinly sliced rib eye steaks or 1 lb deli roast beef, thinly sliced

1 -2

large bermuda onion, diced on the large side not sliced (if you like onions use the 2)

9

slices American cheese

3

hoagie rolls, 12-inch
ketchup or marinara sauce

2

tablespoons peanut oil, preferably
Large dice the onions and set them aside earlier in the day; covered with a paper towel.
Pour the peanut oil into a large hot stainless steel fry pan. Quickly saute the onions tossing them often until they become slightly translucent and tinged with brown. Remove and set aside.
In the same hot pan add some of the meat (not all; it will sweat and release too much liquid) and roughly tear apart with two forks. When nicely browned remove and keep warm. Continue to do all the meat.
Slice the hoagie buns (make sure they are really fresh. To get them sllightly crispy leave them early in the day uncovered) and place 1/3 of the meat in each. Top evenly with the cheese. Distribute the cooked onions and place in 300 degree oven on a baking pan until cheese is melted.
You have the options of using either ketchup or a marinara sauce.