Philly Cheesesteak Sandwiches - Rachael Ray
gailanng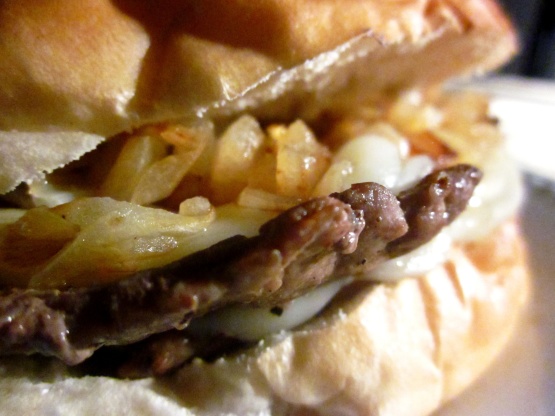 I really don't care for Philly sand. that much but this one is a winner! It is from Rachel Ray's cookbook (30 min. meals) and it is fabulous (and so is Rachael Ray!) My husband cant stop raving! Great for football games too!

This is a fabulous recipe! Everyone loved it when I made it the first time and when I made it the second time, I fried some green peppers and mushrooms with the onions and then instead of using steak, I just went to the market and had the meat department slice up a nice rump roast for me. That was alot cheaper than purchasing whole steaks since I was serving 7 big guys instead of 4 :) and when I cooked the meat, I just tried frying it all together (vegetables and all) like hamburger in a large skillet (that way all that delicious flavor gets cooked right into everything! It worked out great! After it was all cooked, I stirred 8 oz (remember I doubled the recipe) of cream cheese into the mixture. I then served it on toasted and buttered sourdough buns instead of hoagie buns. The sandwiches were to die for!!!
Onions

1

tablespoon olive oil

2

large yellow onions

1

dash salt and pepper

2

dashes steak seasoning

Meat

2

teaspoons olive oil
1 1⁄4 lbs lean sirloin steaks, sliced very thin

1

teaspoon garlic salt

8

slices provolone cheese

4

hoagie rolls
In sauce pan over med-high heat, add olive oil, onions and seasonings.
Toss occasionally and cook until soft.
On griddle pan or large sauce pan, wipe with olive oil and paper towel and heat to med-high to high heat.
Sear and cook meat until brown- about 2 minutes each side--careful not to overcook.
Remove from heat and sprinkle with seasonings.
Toss meat and onions together.
Lay cheese out on rolls and top with meat& onion mixture to melt cheese.