anniek36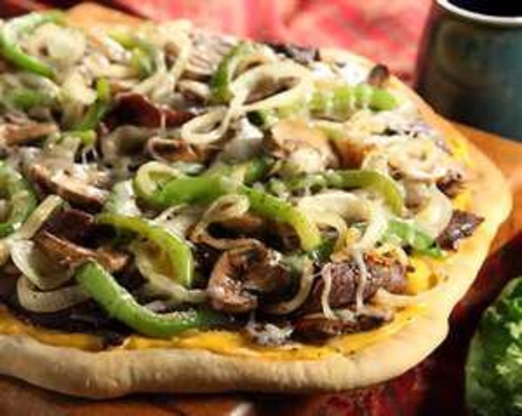 My Husband loves the Philly Pizza from a well known pizza parlor, but they don't have it year round. We set out to make our own so we don't have to wait to have one.

My new favorite specialty pizza! This is awesome! I used 4-Cheese Alfredo and added sauteed mushrooms. I always use Steak-Eze from Sam's Club for cheesesteaks, and they worked great on this as well. Thank you so much! I will be making this often!
Cut wafer thin sliced beef into 1/2" strips. Marinate in Worcestershire sauce and Italian seasoning 15 minutes in air tight container in fridge, turning or stirring every 5 minutes.
Saute onion and green pepper in butter til almost done.
Add beef to onion and green pepper, cook til warmed through.
Cover each pizza crust with the cheesy sauce.
Put 1/2 beef/onion/pepper mixture on each crust.
Cover mixture with Mozzarella Cheese.
Bake on Pizza Pizzaz Pizza cooker for 18 minutes or in 400°F oven for 15-18 minutes.