Kana K.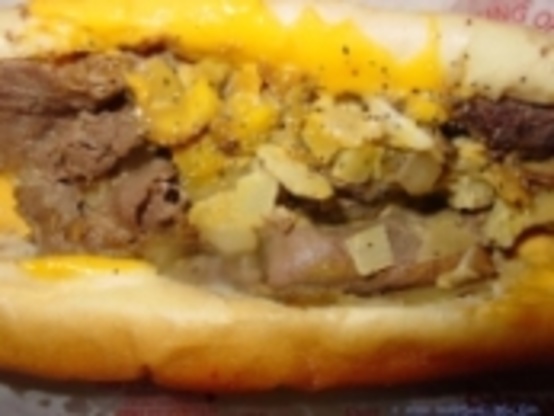 Authentic Pat's Philly Cheesesteak. Principally made up of thinly sliced pieces of steak and melted cheese on a long italian roll with vegetable options. It truly is a Philadelphia comfort food.

This is the closest thing to the authentic Philly steak I've seen on here. I personally wouldn't have this with peppers, only onions. And it wouldn't matter to me what type of onion. The most important aspect is the italian roll. It must be crusty, hearth oven or brick oven baked. Amoroso is the preferred brand but that brand is hard to find outside of Philly. I drown my cheesesteak with ketchup. ENJOY!
24

ounces boneless rib-eye steaks (Freeze and use meat slicer to thinnest cut)

4

crusty Italian rolls (sliced lengthwise to form a cradle, similar to a hot dog bun.)

1

large Spanish onion (Diced, wit)

6

tablespoons soya oil
Cheez Whiz
sauteed mushroom (optional)
sauteed red & green sweet pepper (optional)
Heat a griddle, iron skillet or a non stick pan over medium heat. Add 3 Tablespoons of oil to the pan & sauté the onions to desired doneness.
Remove the vegetables and add the remaining oil and sauté slices of meat quickly on both sides, The slices will quickly brown, scramble into smaller pieces with a flat spatula.
Melt the Cheez Whiz in a pot or in the microwave.
Place 6 oz. of the meat into the rolls and push the meat on one side of the roll and deposit the toppings next to it.
Use a butter knife or chopstick to smear the whiz next to the meat.
This is important because if you put the toppings ON the meat, they will not be in the bottom of the sandwich. You should get meat, toppings and cheese in every bite.
Pizza Steak Variation - instead of using cheese whiz, top with pizza sauce & sliced or crumbled mozzarella. Place briefly under a broiler to melt & lightly brown the cheese.