sydsmama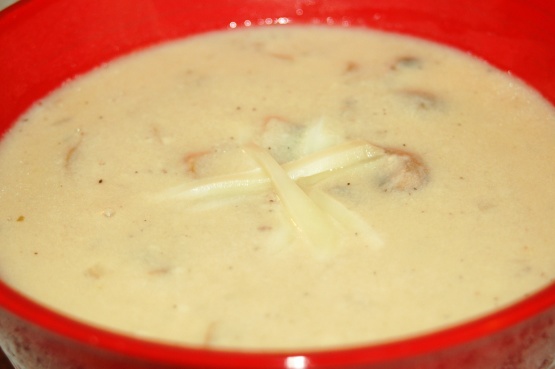 A creamy, cheesy soup that tastes just like a philly cheese steak.

i made a few changes. Reduced butter to 1/2 a stick, watching fat and cholesterol. reduced flour to 1/2 c and used 4 cups milk (2%). used 1 cup of beef broth. And we used 1lb of thinly sliced chuck steak that I seasoned with salt and pepper, diced up and cooked in iron skillet with a little olive oil really quick which cooking all of it at the same time produced a good broth. i did not cook them dry but just until done and then added the meat and the juice from the pan. this was a nice dish on this cold night. and i have enough for the freezer for another dinner. Thanks for sharing
Melt butter in large, heavy-bottomed stock pot or Dutch oven over medium heat.
Add green peppers, onion, and mushrooms and saute until tender (about 5 minutes).
Add flour and cook another 5 minutes stirring often. This is an important step to cook out the flour taste.
Slowly whisk in milk and bring to a simmer stirring often until soup thickens.
Reduce heat to medium low and stir in beef consomme, salt and pepper.
Slowly stir in provolone until all is melted and incorporated into soup.
Remove from heat and stir in roast beef.
Serve with a crusty loaf of french bread.
To freeze: Prepare soup as directed and allow to cool. Place in rigid freezer container. Seal, label and freeze.
To serve: Thaw in fridge. Reheat in microwave or on stovetop,stirring to recombine the soup.