Philly Beef 'n' Pepper Strata
KateL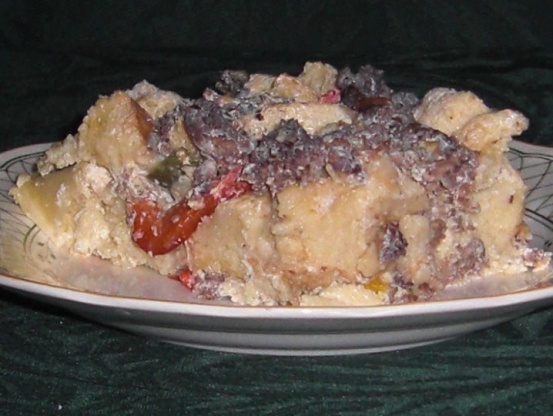 This is a recipe I found in Taste of Home Magazine. I haven't tried it yet but it sounds awesome!

Top Review by KateL
3 Stars, please see my rating system. I like all the ingredients, and I had never been let down by a TOH recipe, but this recipe as written missed the mark. I shared with my co-workers, and quite a bit was left over. I rated 3 stars because it was too bland, so I would not make it again unless I switched pepper jack cheese for the Monterey jack cheese (wouldn't most families prefer cheddar?), or switched horseradish mustard for the Dijon mustard, or served a bunch of different accompaniments, such as catsup, jalapeno slices, or cheese sauce so people could adapt it to their tastes. On the plus side, this was just the right amount of mix to fill a 13 x 9 pan (see upper left corner of my closeup photo). A coworker took her piece home and stuffed in Pepper Jack cheese and bacon bits before reheating, and her son declared it a winner. DH loaded on shredded parmesan cheese and reheated, and enjoyed it very much. I conclude that one must choose some strategy to add a little zip. Made for Photo Tag.
Place a third of the bread cubes in a greased 13 x 9 inches baking dish. Layer with a third of the pepper/onion blend, roast beef, and cheese. Repeat layers twice.
In a large bowl, whisk the eggs, milk, mustard, salt and pepper, pour over the top.
Cover and refrigerate for 8 hours or overnight.
Remove from refrigerator 30 minutes before baking.
Bake, covered at 325 for 1 hour.
Uncover and bake 15-20 minutes longer or until a knife inserted in the middle comes out clean. let stand for 10 minutes before serving.