Philippine Grilled Pork Tenderloin
loof751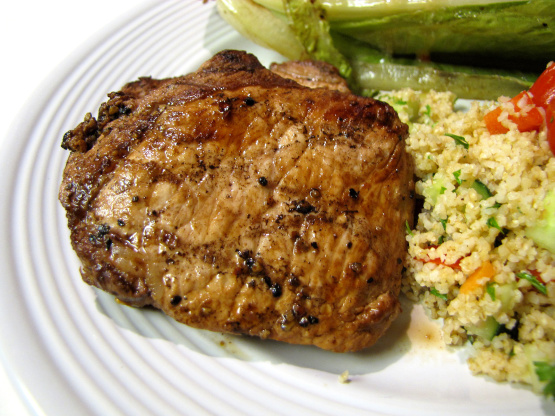 This is a very easy and healthy dish. I got the recipe out of a book called "Low Fat and Loving It" by Ruth Spear and we LOVE this. We cook it on the grill (never under the broiler) and it comes out great. The marinade is cooked and used as sauce. We serve with fried rice or regular rice and use the sauce on that as well. NOTE: I add the crushed red peppers to the marinade initially, not at the end where stated.

We enjoyed this recipe a lot. I made it just as stated and it turned out juicy and delicious. Thank you for the recipe.
Cut the pork into 1/2 inch thick medallions. You should have about 12 slices.
Mix together the vinegar, soy sauce, garlic and pepper. Add the pork slices and let marinade 4 to 5 hours (or overnight) in the refrigerator, turning occasionally.
Preheat the broiler. Broil the medallions 7 minutes on each side about 4 inces from the flame. (These are also delicious on a grill; cook over a medium fire 5 minutes on each side, then 10 minutes covered.).
While the pork is cooking, bring the marinade to a boil in a small saucepan, add the hot pepper flakes, then reduce by one quarter. Strain and serve as a dipping sauce with the meat.