Phena's Baked Turkey Flautas #A1
trephena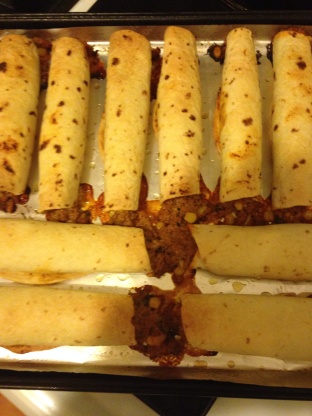 A.1. Original Sauce Contest Entry: These are so easy to make and sooo flavorful. Be sure to make extras because they're guaranteed to disappear fast!

Here I go again, loving food. Here I go again, eating well. Great recipe!
Preheat oven to 425 degrees.
Heat a large skillet, lightly coated with olive oil, over medium heat. Add turkey, crumbling with a fork, onion, garlic and A1, continue cooking until ground turkey is done. Remove from heat.
In a medium bowl, combine goat cheese, salsa, lime juice, cumin, chili powder and smoked paprika. Mix well. Add spinach and corn, stir to combine.
Add goat cheese mixture to ground turkey, stir to combine.
Spray a cookie sheet lightly with olive oil.
Spoon 1 1/2 tbsp turkey mixture onto lower third of tortilla. Roll tortilla as tightly as you can and place on cookie sheet, seam side down. Repeat with remaining tortillas.
Spray tops of tortillas lightly with olive oil.
Bake for 20-25 minutes or until crisp and golden brown.
These should served warm and topped with: sour cream, salsa, guacamole, shredded cheese or any dipping sauce of your liking.