teresas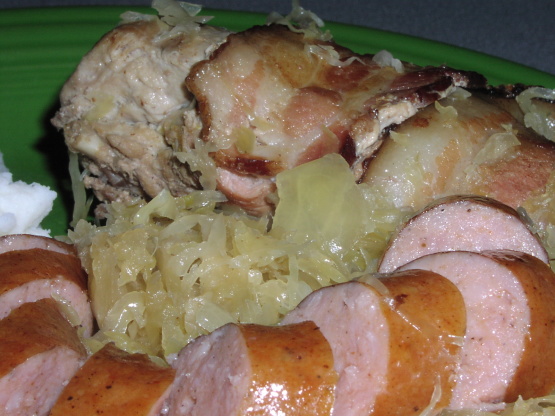 Posting this per a request. I haven't tried it, but it comes from a much loved book-The Poultry and Game Cookbook. It's supposedly a Bavarian recipe.

This was very good but was a touch on the dry side. Surprising with the bacon, butter and oil but the meat was. I did sweeten up the sauerkraut with a little brown sugar. True German sauerkraut really doesn't taste sour... I made only the breast and decreased the cooking time down to 40 mins total. I served it with a side of mashed potatoes cuz DH loves to put the juice from the sauerkraut on it. Thanks for posting. :)
Wrap the pheasants with the bacon, securing it with string.
Loosely tie the legs together.
Melt the butter and oil in a heavy pan over moderate to high heat and fry the pheasants on all sides until the bacon fat starts to run.
Drain the excess fat from the pan, reduce the heat and pour the wine over the pheasants.
Add the peppercorns and bayleaves and bring the wine to simmering point.
Cover the pan tightly and cook for 30-40 minutes, or until the birds are almost tender.
Pack the sauerkraut around the sides of the birds and pour the beer over.
Cover and simmer for 10 minutes, then add the sausage, cover and heat through.
To serve, carefully lift the pheasants from the pan.
Snip the string and remove without disturbing the bacon.
Place the birds on a warmed serving dish and keep hot.
Remove the sausage and set aside for a moment.
Adjust the seasonings of the sauerkrat before arranging it around the pheasants.
Discard the bayleaves and peppercorns if you find them.
Quickly cut the sausage into 1cm slices and lay over the sauerkraut.
Using snips or poultry shears, cut into halves or quarters to serve, trying not to disturb the bacon slices.