Pheasant Mulligan With Dumplings
teresas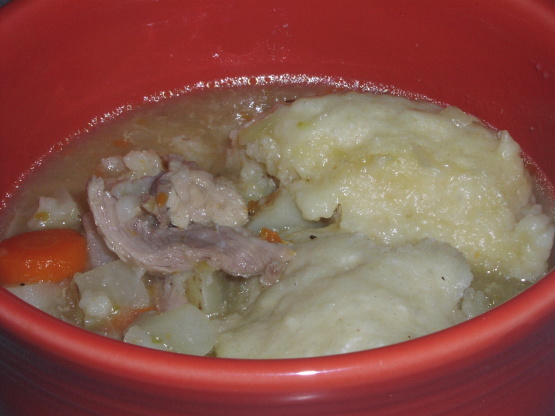 A savory stew for you hunters. From the Mississippi Valley chapter of the United States Regional Cookbook, Culinary Arts Institute of Chicago, 1947. Cooking time approximate.

I just tried this recipe out on my family this week, it's pheasant season here so I had plenty of fresh birds!!. This is so simple and so easy, and it tastes absolutely wonderful!!!! This is definately a keeper!!!!!
Clean pheasants, cut into serving portions and cover with water in stockpot.
Add carrots, onions, and cabbage; cook slowly until nearly tender.
Add potatoes and butter; season to taste with salt and pepper.
Cook until meat and vegetables are tender.
Make dumplings; sift flour baking powder and salt together.
Beat egg, add milk and stir into dry ingredients.
Drop by spoonfuls into the hot stew and cover the pot tightly.
Cook for 15 minutes without lifting the cover.