teresas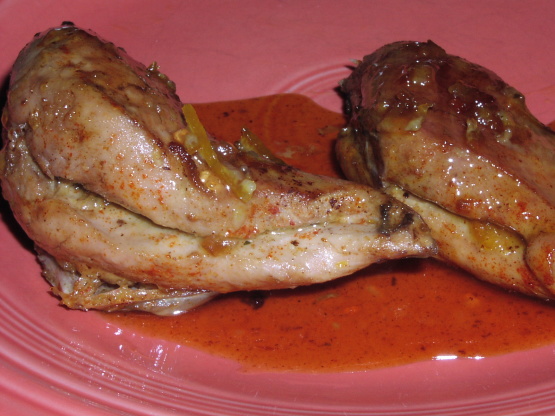 I was at a loss when my hunter DH came home with lots of pheasant for me to cook. A family friend gave me this recipe and it is DELICIOUS!

I really enjoyed this, although, my pheasant got a bit dry. And i even cooked it 15 minutes less than suggested! It would have been inedible if i had cooked it the full time. Maybe I had it simmering too high? Not sure, since no one else seemed to have this issue. Otherwise, the flavor was great. I would definitely try this again. Everyone enjoyed this, but also thought it was dry. I served with herbed oven-roasted potatoes and carrots.
Wash pheasant and pat dry.
Sprinkle on both sides with paprika.
Heat 2 tablespoons of butter in a skillet and cook pheasant on both sides till browned.
Add more butter if needed.
Mix water and bouillon and pour over pheasant.
Lower heat and cover and simmer for thirty minutes until tender.
Add water if needed and turn meat several times.
Combine remaining ingredients.
Let liquid on pheasant cook away and then baste orange sauce over the meat.
Simmer uncovered and baste frequently for 10-15 minutes.
Serves 2. Great served with rice.