teresas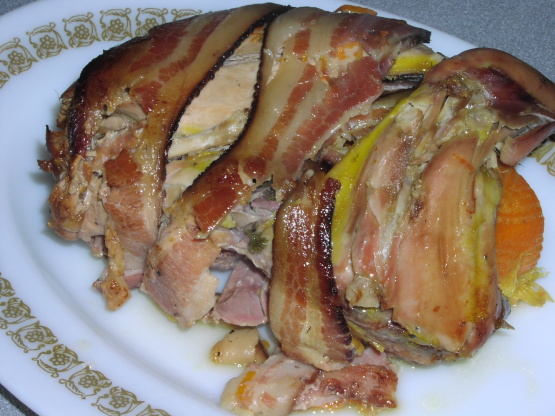 My husband and father-in-law love pheasant.

This is one of the best recipes I've used in several decades. Lots of room to improvises also. I have added potatoes, sweet potatoes, carrots, onion, celery, cabbage and spinach to cover up the pheasant and WOW...what a treat. I suggest using more oranges...and more zest from the oranges..adds sooo much more flavor to the pheasant. The meat will just fall off the pheasant when your done ... 4 hrs seems to been about the normal I'm ready to eat time. Served on a bed of wild rice and man on man do you have a meal. I serve chilled white wine...and the ladies love it. I also sprinkle just a dash of white white over the pheasant along with the olive oil and orange drippings.
Put the thyme, parsley, and crushed garlic inside the pheasant.
Tuck the garlic slices between the legs and body.
Season the pheasant with the salt and pepper.
Remove the zest from the orange in long, thick, curly strips; lay them over the breast.
Wrap the breast with the bacon and put the pheasant in a slow cooker.
Halve the orange and squeeze the juice all over the bird.
Put one of the squeezed orange halves in the cavity.
Drizzle the pheasant with olive oil and broth.
Cover and cook on HIGH for 3 ½-5 hours until the meat is tender and an instant-read meat thermometer inserted in the thigh registers 180°.
Serve the pheasant on a platter, with the juices poured over.