teresas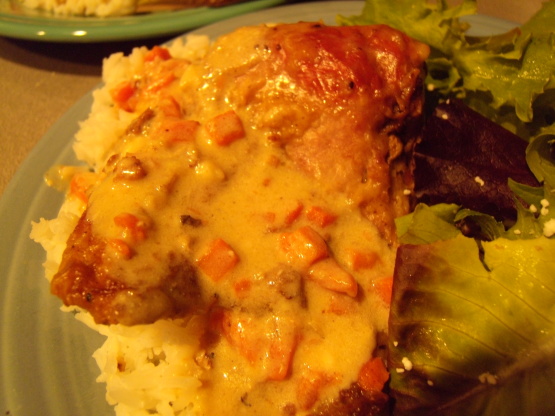 I got this recipe from "who knows where" I can't remember, but have had it on an index card forever. I still haven't made it, but DH is going to be pheasant hunting again so I dug it out and plan to prepare it this season. Wish me luck! I made this for dinner and had to make a few changes to the recipe. The broth cooked away within 20 minutes of cooking so added in more to prevent burning. I cooked in an electric skillet. DH and I enjoyed it.
Combine the 1/2 cup flour, salt and pepper in a paper bag.
Add pheasant, 2 to 3 pieces at a time.
Shake to coat well.
In a large heavy skillet brown the pheasant in butter (350° on electric skillet).
Add onion and carrot, cook 2 minutes.
Add 1 can broth and cloves.
Reduce heat (200°) Cover and simmer 45 to 55 minutes or till tender, adding 2nd can of broth as needed to prevent all juices from cooking away.
Remove to warm platter.
Measure 1 cup broth, discard remaining broth.
Return broth to skillet.
In a screw-top jar shake light cream and 3 tbls flour till blended.
Stir into broth in skillet, cook and stir till thickened and bubbly.
Stir in parsley and lemon juice.
Serve over pheasant.