Prep 10 mins
Cook 1 hr 25 mins
Posted in response to a request. This was my grandmother's recipe for pheasant. We had/have a lot of hunters in the family and this was the best recipe for pheasant. I'm guessing on the serving size for 3 pheasants.
Directions
Saute pheasants in butter 10 minutes.
Remove from skillet and saute mushrooms in butter remaining in skillet 10 minutes Return pheasant to skillet.
Add wine, lemon juice, onions, salt and pepper.
Cover and simmer 1 hour or until tender.
NOTE: If oven is used- Bake at 375 degrees for about 2 hours.
Reviews
Most Helpful
I left the birds whole, did everything the same, but instead of lemon juice, I stuffed them with tangerines. YUM! Thanks for posting
I only had one pheasant (next time, I'll quarter it instead of leaving it whole) but I made all of the sauce. A little freaked out to find there is a teaspoon of pepper - but somehow it worked! The smell of it cooking is fantastic and it tastes just as good. If I were to add more birds, I would probably double the sauce. I just did an Uncle Ben's Original Wild Rice side dish and the sauce mixed with the rice - wow!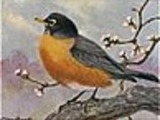 really enjoyed how the wine tenderized the pheasant! i cut the pheasant into strips as well and added more mushrooms and onions but that's only because i love them :-) GREAT recipe! thank you for sharing