diner524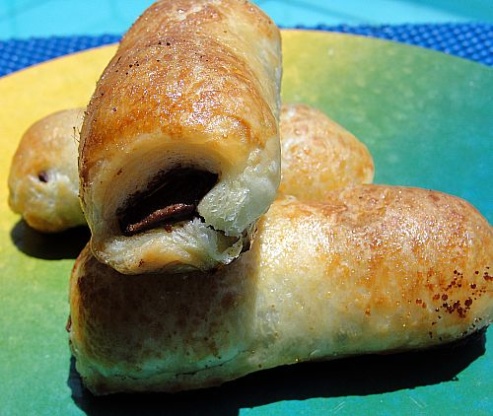 This recipe is popular in many European countries including France and Switzerland.

Chocolate is a favourite in my home, so this was greatly appreciated, especially served warm, since the chocolate had that melt in your mouth texture to it. In fact, any leftovers were warmed up in the microwave.
2

sheets frozen puff pastry, thawed, each sheet cut into 12 squares (one 17.3 ounce package)

1

large egg, beaten to blend with 1 T. water

14

ounces imported milk chocolate, cut into 6 2x3/4inch pieces
Line baking sheet with parchment paper.
Brush top of each puff pastry square with egg glaze.
Place 1 chocolate piece on edge of 1 pastry square.
Roll up dough tightly, enclosing chocolate.
Repeat with remaining pastry and chocolate.
Place pastry rolls on baking sheet, seam side down.
Preheat oven to 400°F.
Brush tops of pastry rolls with remaining egg glaze.
Sprinkle lightly with sugar.
Bake until pastries are golden brown, about 15 minutes.
Serve warm or at room temperature.